What is growth hacking all about?
Growth hacking is essentially a mechanism for startups that need a super impressive way to enter the market and rocket their product into positive statistics with minimal financial investment - but you already know that.
What you probably didn't think of is that growth hacking can actually be embraced as a long-term strategy to cope with day-to-day problems that every business is inevitably facing. A startup or a well-known brand - everyone could use a pinch of creative "out-of-the-box" sorcery to intelligently boost their ROI and witness rapid business expansion in no time.
If picked and executed wisely enough, different growth hacking tactics can help your company live long and prosper. Simply enough, coming up with a thoughtful, long-term growth hacking strategy will result in:
Achieving rapid increase of traffic and conversions

Gaining recognition and turning your company into  brand

Taking UX to the next level

Boosting ROI and stabilizing the financial flow

Reducing churn rates

Improving growth statistics

Ensuring resources for further business improvement
Intrigued yet? 
On the verge of 2020 (well, almost), we're going to show you some pretty inspiring growth hacking examples that took place in recent years. Hopefully, our set of growth hacking case studies will provide concepts, provoke thoughts, and initiate processes for those who need that little push right now.
1. Casual
Casual is an online project management tool that provides an intuitive way to plan and execute different projects online. Its growth hacking case study begins with a single crucial startup technique - including the company in various startup directories and free listing websites. 
The founder of Casual provided Hacker Noon with a straightforward insight - that their startup received around 500 emails and 300 registrations in just a couple of days after it has been submitted to Betalist. 
Some of the other best startup directories you can include your website into are:
Google My Business

Crunchbase

Index.co

Feedough

Killer Startups

Startups Subreddit

Alltopstartups

Product Hunt

GeekWire, etc.
2. FindThatLead
FindThatLead is a lead generation tool, providing growth hacking advice and outbound marketing services. What they did to gain audience and popularity with zero to none financial investment was to rely on a very considerate and proven growth method - organizing an online society of potential users. 
The founders of the company created a private Facebook group, named Growth Marketing & Outbound, which currently has about 11,000 members - all of which are obviously their potential users, actively engaging with the brand on a regular basis. 
What the company does is providing resources, case studies, relevant news, and information, thus gaining the trust and respect of thousands of social media users every day. And guess what? When joining the group, you are offered a free cold e-mail guide… You just need to provide your e-mail. :)
3. Author Stash
Author Stash is a platform that provides valuable resources and tools for fiction and non-fiction writers - education courses, guides, editing tools, marketing channels, and more. 
The founder of the platform recently shared valuable insight into one of his most crucial growth hack endeavors - providing a meaningful pre-launch list of subscribers. He managed to earn more than 2,000 subscribers in under two weeks and basically grew his mail reach by 24,900%. The good news is that this is obviously possible, and the bad news - that it doesn't come effortlessly.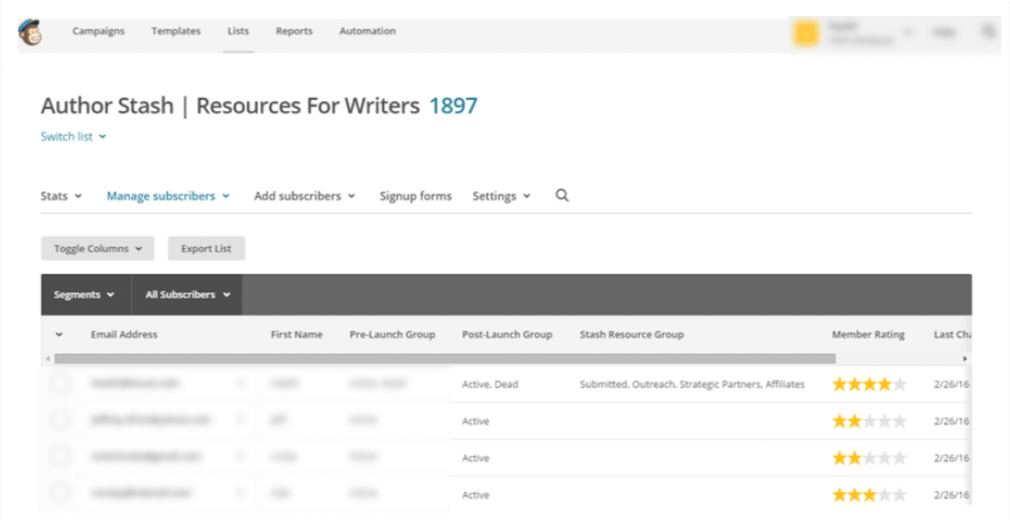 How did he do it? In five ways, he says. And those five ways include:
Forum and group activity - Reddit, Facebook, KBoards, and all over the place. He provided valuable information, asked and answered questions, provoked discussion and built a natural online reputation, which later drew people into his personal "resource page";

Social media activity among peers and people with common interests;

Influencer team-up by providing a professional "win-win" proposal;

Connection with the owners or providers of products featured in the website - database builders, software providers, educational institutions, etc;

Organizing contests and giveaways with email sign up.
As you can see, this growth hack strategy is all about giving out before expecting to win back. Give out time, knowledge, advice, valuable resources, feedback, and social connections - because it will eventually pay off.
4. Popcorn Metrics
Popcorn Metrics is a tool that helps online marketers to track, analyze and improve their campaigns in order to increase conversion rates. What the growth hackers of Popcorn Metrics managed to do in 2019 was to increase the company's revenue by the impressive 367% in just 12 weeks.
How did they do that? By investing time and huge amounts of personalized effort in the free trial users of their product. They provided extended Skype consultations and tons of valuable information to make those hundreds of people achieve visible success by using their tool. That effort soon outgrew 1-on-1s and materialized into the "Popcorn Metrics Academy" - a selection of free text and video tutorials, extended FAQ section and onboarding e-mail campaigns that boosted their conversions even further. 
What can we learn from Popcorn Metrics? That sometimes investing time and personal care in the customer can do miracles that no amount of money spent on advertising can; that the market sometimes needs proof.
5. Gymshark
Gymshark is a fitness appeal online retailer that managed to build a hundred-million business in a few years, by relying almost entirely on active influencer collaboration. Just two years after its initial establishment, Gymshark managed to achieve annual revenues of around £250,000 thanks to its supreme influencer marketing, providing an amazing growth hacking example. 
What the founder of the brand actually did was digging the most popular fitness influencers in different social media… and offer them a box of Gymshark clothing for free, in exchange for a Facebook post, an Instagram photo or a YouTube video, advertising the brand. As you already know, the word happened to spread pretty quickly. 
An analysis of Google Trends and Google Keywords shows that influencer marketing has risen more than 90 times in the last five years, promising to go even further as a major growth hacking tactic. 
6. Serpact
Serpact is a fast-developing SEO agency, awarded at the European Search Awards for 2019. What they did in 2018 and 2019 was launching a webinar section with knowledgeable guest speakers, discussing the latest global SEO trends, as well as a powerful blogging section, providing tons of relevant information from the field.