Coming up with a detailed and thoughtful business plan is the first crucial step towards making a success story out of your tech startup initiative. 
The technological revolution of the 21st century, along with the rapid digitalization of the industries, resulted in the logical occurrence of a raging competition in the IT and technology sector - that's precisely why you can't afford to make a wrong step, especially in the very beginning of your journey. Overlooking your tech startup business plan can rocket your business straight to oblivion, no matter how spectacular your initial idea might be. 
That's why we're here to give you some valuable advice on how to start a tech startup business plan - when is the time to do it, how to proceed and what to keep in mind while going through every step of the process. 
When is the time to initiate your tech startup business plan?
Naturally enough, you'll need to do that as soon as you decide to transform your dream or idea into a meaningful, profitable business. 
According to the recent global startup failure rate data, the main reason for unsuccessfulness is the lack of planning and experience. Experience doesn't materialize out of thin air, and there isn't much you can do about it, but thankfully that's not the case with planning. 
Generating a steadfast concept for the means, products and objectives of your business can guide you out of the negative statistics and help you be aware of what exactly are you doing, why are you doing it, and how to improve along the way. 
Why do you need a tech startup business plan?
First of all, you obviously need one because you'd love to be out of that unfortunate 40 % who lose most of their financial investment and need to entirely rethink their course of action. 
The main advantage of planning before doing is the more profound knowledge and understanding of your enterprise - the clarity of vision and the opportunity to define working structures and solutions following it.
Apart from that, a professionally designed tech startup business plan will statistically help you boost your business growth as well as gain some valuable funding, according to a study conducted by the University of Oregon's Economics department.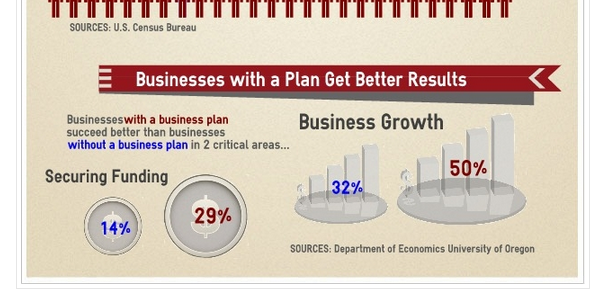 Once you are convinced of the need for those advantages, let's dig a bit deeper into the subject of how to start a tech startup business plan that will pave your way to success.


Crucial elements to consider when designing your tech startup business plan
Your tech startup business plan needs to be packed with certain main features, which altogether define the philosophy, the means, the objectives, the products, and the aspects of your business, as well as the ways you're going to manage and upgrade them in time. Those features include:


The general values and philosophy of your brand
Though often overlooked, your values and philosophy are going to be the face you show to your customers, partners, and associates. They are precisely what turns a company into a brand and what makes it recognizable, worthy, and respected.
Start with defining what you stand for, how you'll approach the business industry you're headed to, and what type of image you aim to show to the world. Pack up a bullet list of things that matter to you as a startup brand - customer approach, working models, social causes, and long-term principles to follow along the way. You don't need to include that part in any official document, but you can have it for yourself and come back to it every time you feel insecure in your decision-making process. 
Company summary 
Think of it as a statement - a single vital sentence, which describes what you do, who needs it done, and how is your offer better than the offers of your competition. This summary needs to be bold, catchy, and straightforward since it will either capture the attention of potential customers and partners or leave them generally unimpressed.


Executive summary
The executive summary is undoubtedly the most crucial part of what needs to be done. It needs to compile the essence of your endeavor in a short, focused, and positive language. It must embrace the business model and business opportunities of your tech startup, its marketing target and strategy, its unique selling points, and long-term goals. 
A polished, engaging, and definite executive summary aims to attract investors, funders, potential business allies, and employees as a devoted part of your company. Usually, if your executive summary doesn't sound intriguing enough, most of them won't even finish reading the document at all, so give your very best in it.


Marketing research & Competitor analysis
The initial marketing research and competitor analysis are going to provide the "spine" of your further business effort. According to Forbes, 42% of startups fail because the market doesn't actually need their product or service. 
No matter how valuable you think your idea is, never leave your bare intuition to be your guide. Pack yourself with stable data, statistics, and demand evaluation. Identify consumer needs, market trends, and pricing strategies so that you can be relevant and competitive, once you step into the tech startup battlefield. 
Products & Services planning
The way you frame and represent your products should be a direct answer to the marketing research you've previously conducted. Once you have defined the current needs and demands in the tech field, try to tailor your products to them and describe them as a solution to the necessities of your targeted audience. 
Follow one simple rule - speak of the clients more than you speak of yourself and your company. Address their needs, their potential gains, and the way you can make their business and their lives easier, better, or more profitable. 
Management plan & Operational structure
According to the Medium, most of the startup companies have two or three founders, though a considerable number are also being launched solo. Having a limited-edition initial team doesn't mean that you don't need to plan your management and operational structure for the future. 
Create a clear power and responsibility relation chart that will inform your potential partners and employees about the distribution process of your company. Include management and supervising positions, as well as expert posts for each primary department - from development and testing to advertising and PR. Once your team begins to grow, this hierarchy chart will smoothen the process and prevent your employees from being lost in unclear communication. 
Marketing strategy
Marketing and sales are two of the main essentials of success, especially in hardcore niches such as the tech one. It would be particularly wise to consult or employ a professional marketing and sales team to compose a tailored strategy for your initiative. 
You need to specify a meaningful set of marketing channels and activities. They include launching your own functional website or online store, local or national SEO optimization, professional copywriting, link building, social media and search engine marketing, as well as more direct approaches such as e-mail marketing, for example. 
PR & Brand image strategy
Make a clear distinction between marketing and PR because you are wise enough to do so. A good product is not always enough to make your name known and bring you a step ahead of your competitors.
Plan a well-balanced set of PR activities that intend to engage a growing audience of diverse profiles. This set might include the organization of and participation in various trainings, seminars, lectures, and symposiums, as well as other public actions, media coverage, engagement in social causes, etc. 
Budgeting
Last but definitely not least, please consider your budgeting very, very carefully. A considerate and realistic financial plan can spare you a lot of trouble and disappointment as a tech startup. Buffer - a super successful social media management and analysis startup, offers a transparent and quite detailed insight into their monthly spendings.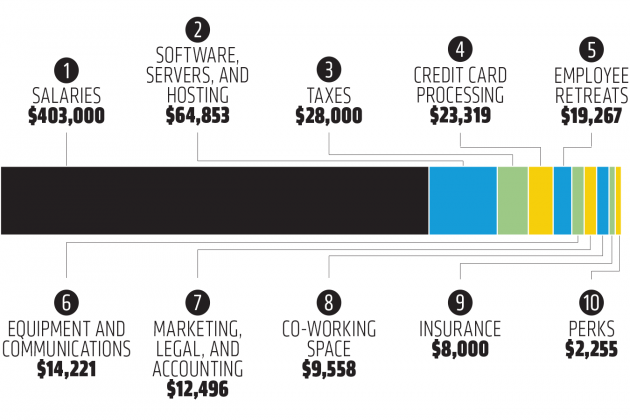 If you try to ignore the numbers themselves, you can get a pretty clear picture of the financial flow - where does the money go, and where are your finances needed the most. "Translate" the scheme for the character of your enterprise and plan how you are going to manage the expenses. Search for investors, reach out to partners, and improve your marketing to boost your sales quickly.


Can you come up with a tech startup business plan on your own?
For better or worse, the answer to this question is more no than yes. Of course, you can try and give your best to do a one-man show, but the complexity of the tech market might just overwhelm your abilities as a single human being. 
Ensuring a higher possibility for success comes with accepting the fact that you might need to make an initial investment for marketing research, launching and optimization of a company website, infrastructure architecture, internal system and MVP development, and probably an initial marketing campaign. 
The good news is that the greater effort you put into prior outlining and arrangements, the higher your ROI is expected to become in the long run. Because careful planning is not worthless overthinking, but a way to pave your way to rewarding business results.